Badges
We custom cut your name badges in a variety of sizes and shapes. From the very basic to the elaborate, we will provide you with a quality product to promote your company name and logo.

Frames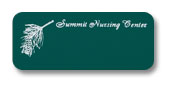 Plastic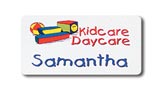 Metal
Special Shapes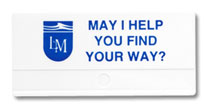 Channel
Oval or square edged frames provide an elegant touch to your name badges. Our frames are available in a variety of sizes in both gold and silver finish. These frames are available with either magnet, pin, or military backing.
Custom cut to your specifications, our name badges are manufactured using state-of-the-art computerized equipment. We offer a wide range of colors and a variety of finishes to give you just the right look. Whether you require a logo or simply text, we can customize your badges to reflect your company's image.
For multi-colored logos & photos, our digitally printed full color badges are the perfect choice. Several sizes and thicknesses are available. This process is ideal for photo ID's, badges, and small signs. All full color pieces are also finished with a special clear UV coating.
Our metal badges are made using brass, aluminum, and our specially formulated laser-engraved metal called Alumilaz®(both gold and silver). Your logo can be reproduced either in color using screen printing or we can engrave everything in black.
Using our state-of-the-art computerized equipment, we can custom cut shapes for your name badges. Please note that rounded shapes work best—sharp corners can be dangerous when bending or turning.
Just the thing for quick hires. Your company logo can be permanently imprinted for a professional look and a space for your employee's name can easily be filled with 3/8" Dymo® or Brother® tape for a custom look.
We offer 4 choices for the edges of your name badges: bevel, 1/8" round, ¼" round, and 3/8" round. We also offer a variety of options for the backing of your name badge. Our standard backing is the jeweler's locking pin. Clips, pocket slides, military bars, magnets, and lanyards can be added to your badge. We can apply an epoxy dome to your badges for an additional charge to provide extra protection.