Awards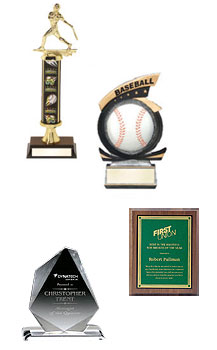 Plaques
We offer a full line of award plaques to show your appreciation, reward excellence, and acknowledge outstanding service. Laser engraving of your logo and text can be done directly on the wooden boards or on the brass plates that attach to the plaques.
Trophies
From the neighborhood soccer team to corporate awards, we offer trophies, medallions, cups, acrylic awards, and crystal awards to meet your specifications and budget.
Online Catalogs
Visit the links below to view online catalogs of the various plaques and trophies that are available to you.
2010 Downloadable Catalogs
Listed below are 3 new sports awards catalogs in pdf format.